Written by Lucas Stock
Updated: May 17, 2023
Choosing the right forage for your hay-loving herbivore can be confusing, but it doesn't need to be!  Regardless of your level of experience caring for rabbits, guinea pigs, chinchillas, or other herbivores in the family, you've likely encountered a variety of different types of hay while stocking up on essentials for your little loved one. In this article, we'll take a look at two popular but uniquely different types of hay: alfalfa and Timothy hay.
When doing a side-by-side comparison between alfalfa and Timothy hay, it's important to note that there is room for both of these hay varieties in your pet's diet.  Your pet's age and health status will largely determine if their diet should focus more heavily on alfalfa or Timothy (or another grass hay).
Alfalfa at a Glance
Legume hay
Sweet taste and soft texture
High in fiber
Higher in protein and calcium than grass hay
Ideal for young, ill, pregnant, or nursing herbivores

Should be offered only as a treat for non-nursing adult herbivores
Check out our deep dive on alfalfa to learn more about this important and enticing hay variety!
When Should I Offer My Pet Alfalfa?
If our pets could do the shopping, many of them would load the cart up with alfalfa every time.  That's because alfalfa is sweet, rich, and altogether delectable to small pets.  Along with its appealing flavor profile, alfalfa contains more protein and calcium than grass hays like Timothy, Orchard, Oat, and others.
Alfalfa's higher nutritional value makes it the ideal forage choice for young, ill, or nursing herbivores with elevated energy requirements.  Pets meeting one these criteria can eat unlimited amounts of alfalfa.
One common mistake pet parents make is to neglect offering grass hay alongside alfalfa to the young, nursing, or ill pets.  Grass hay is beneficial to all pets, young and old and should always be available.  Munching on a variety of different types of hay provides an entire host of benefits, so don't forget to offer Western Timothy or another variety of grass hay anytime you provide alfalfa!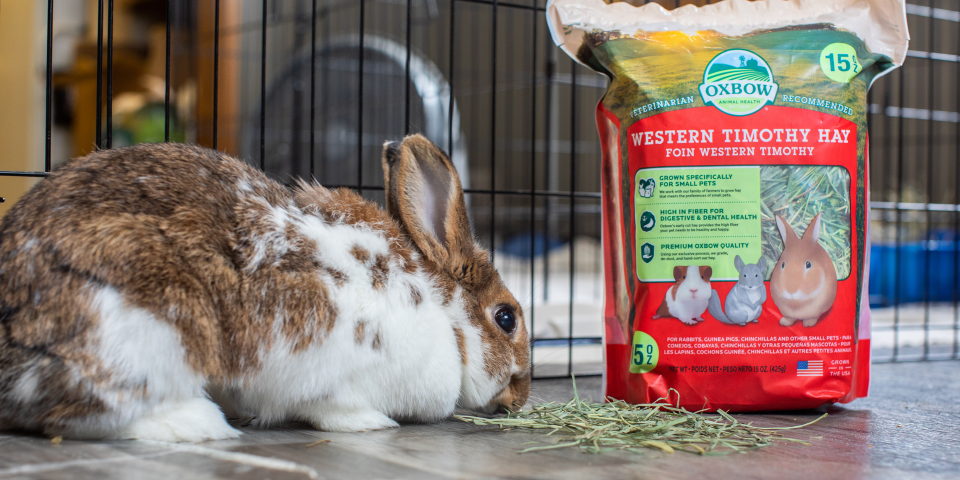 Timothy Hay at a Glance
Grass hay
Balanced taste and texture
High in fiber
Lower in protein and calcium than alfalfa
Ideal for adult herbivores

Beneficial for young herbivores in addition to alfalfa
When Should I Offer My Pet Timothy Hay?
As mentioned, Timothy hay (or your pet's grass hay variety of choice) should be offered anytime you're feeding them alfalfa, regardless of your pet's age or health status.  But, when should grass hay be the primary forage of choice for your herbivore?
Grass hay should be the primary forage choice for adult animals that are not pregnant, nursing, ill, or recovering from surgery.  That's because healthy adult animals generally have lower energy requirements.  That doesn't mean that your grown-up rabbit or guinea pig can't ever enjoy alfalfa.  Just be sure to offer alfalfa in small quantities (just a pinch as a treat).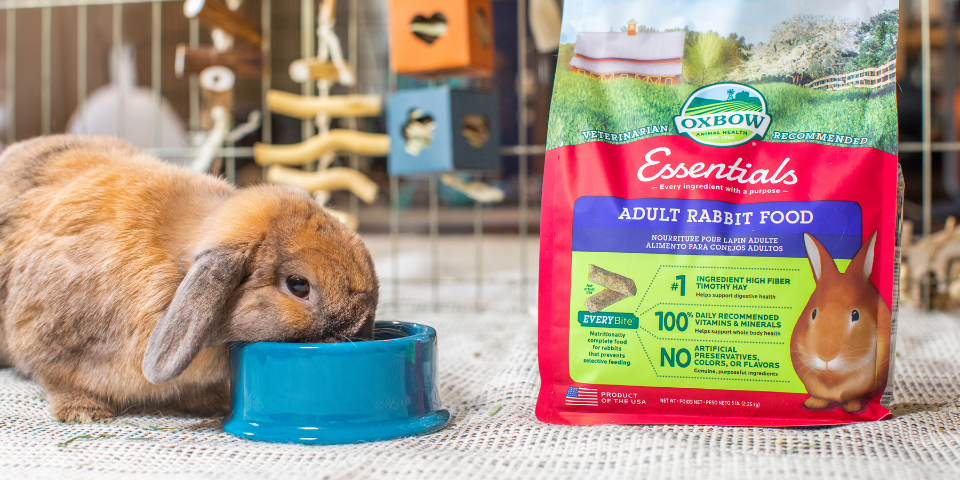 Alfalfa and Timothy in Rabbit and Guinea Pig Foods
The same general guidelines around alfalfa and grass hay apply when it comes to your pet's food.  For example, you should choose an adult rabbit or guinea pig food with grass hay-based ingredients (e.g. Timothy) at the top of the ingredient list.  A grass hay-based pellet provides appropriate levels of protein and fat, meeting maintenance needs while preventing obesity.
Young, growing, pregnant, or lactating herbivores have higher energy requirements and need food that is specifically designed to meet these needs. An alfalfa-based uniform pellet provides a nutrient-dense diet to support animals during these stages of life.
If you're unsure whether your pet's food is appropriate for his stage of life, we encourage you to consult with your trusted veterinarian.