An enriched guinea pig is a happy guinea pig! Keeping boredom at bay can be easy and affordable with a fun rotation of toys and accessories. Guinea pigs have instinctual behaviors that should be met daily, including:
Exploring – Guinea pigs adore exploring and discovering new things! Physical activity and mental stimulation are key in keeping your small pet healthy, happy, and active.
Playing  – Anyone who has parented a guinea pig can attest to the fact that they love playing with their pet parents! Build a great bond by engaging with activities and accessories that you can both interact with.
Chewing – Like rabbits and chinchillas, piggies have open-rooted teeth, meaning that their teeth do not stop growing as they age. Maintaining your little one's dental health is imperative to their well-being. Make sure to provide them with plenty of opportunities to gnaw and nibble to their heart's content!
Hiding – Guinea pigs are prey animals and are prone to feel stressed if they don't have access to hideaways. Strategically inserting hiding places in their habitat and throughout your home where they play is a great way to ensure that they feel safe and happy.
Check out our top 10 toys and accessories to help meet your guinea pig's needs below!
Great For: Chewing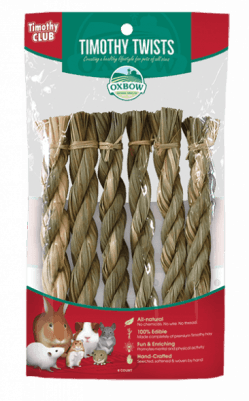 If you're a piggie parent, then you are probably well aware that your little one is nothing short of a champion chewer. So how can you keep your guinea pig from nomming on habitat bars, baseboards, and other non-pet-friendly furniture? Check out our Timothy CLUB Twists! Made of hand-woven hay, these twists are the perfect size for placing throughout their pet palace or putting in their play area during supervised time outside of their habitat.
Great For: Chewing, Playing
It's time to think vertical! Attaching the Play Wall to your pet's habitat not only provides your furry potato with a little physical enrichment by having to reach, but it also saves on floor space so they have more room to roam. The danglies are replaceable and can be exchanged with other varieties and colors so that you can mix them up at your leisure!
Great For: Hiding, Chewing, Exploring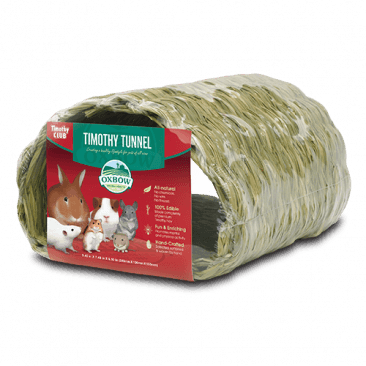 Remember how we mentioned that hiding is an important prey-based behavior that makes your guinea pig feel a little more comfortable in their environment? This tunnel is a great way to support that behavior! Since it's made of hay and is 100% edible, they can also take a little snack break while they're relaxing. Talk about a win-win!
Great For: Hiding, Exploring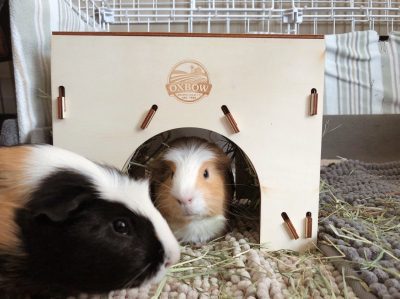 Photo by @finnleythepig
Hay is an important staple in any guinea pig's diet. Not only is it a terrific source of fiber, but it's also great for their teeth! Ensure your little one is getting all the hay they need by giving them access to a Hay House.
Pet Parent Tip:
Ever wondered how much hay your guinea pig should be eating every day? Watch the video below and learn more at our blog.
Great For: Chewing, Playing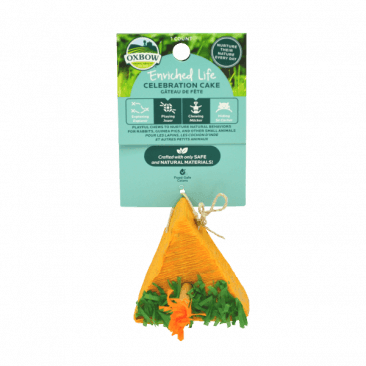 Who doesn't like to celebrate with a little cake now and then? While your pet can't chow down on the sweet variety complete with icing and candles, they can certainly enjoy our paper-based accessory that's shaped like everybody's favorite festive treat!
Great For: Playing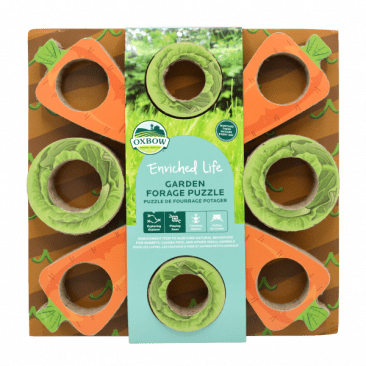 Hiding food and treats is a great way to support your pet's foraging instincts. Foraging provides oodles of enrichment during snack and mealtime. Trust us, your guinea pig is going to go ga-ga for the Garden Forage Puzzle.
Great For: Playing, Chewing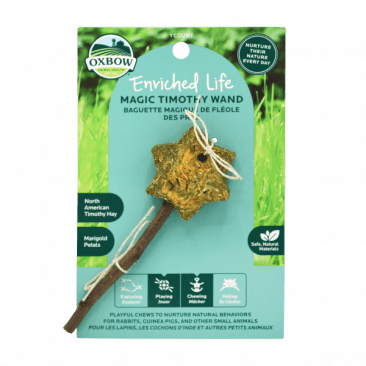 This isn't quite as magical as Harry Potter's, but the Magic Timothy Wand will be a fun, new chew for your little one. Featuring delicious marigold petals, this yummy chew is a winner!
Great For: Hiding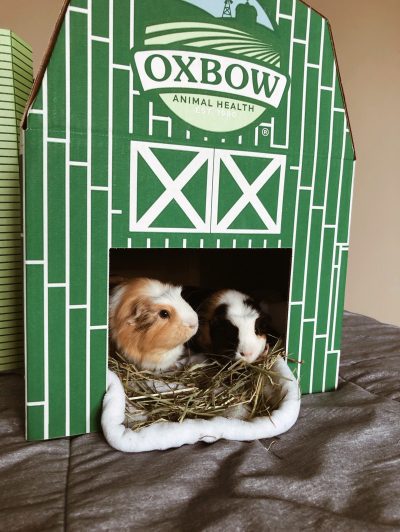 Photo by @finnleythepig
Looking for a roomier alternative to the Hay House? We've got you and your furry family covered! The Hay Barn is perfect for the piggie who needs a little more wiggle room or for families with multiple piggies who enjoy spending time together. The Hay Barn also features a fun silo where you can place your piggie's favorite variety of hay!
Great For: Hiding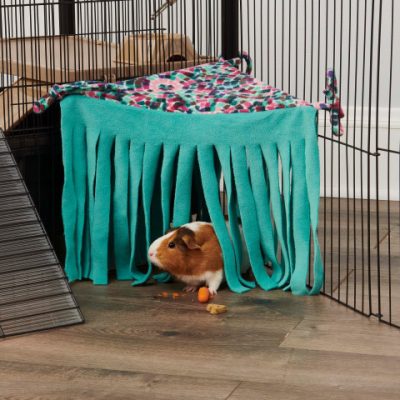 Everybody can use a little zen space to relax and kick back! The Corner Fleece Hideout easily attaches to habitats to provide your little one an area of their very own to hide. Its machine-washable fleece provides maximum comfort.
Great For: Chewing, Playing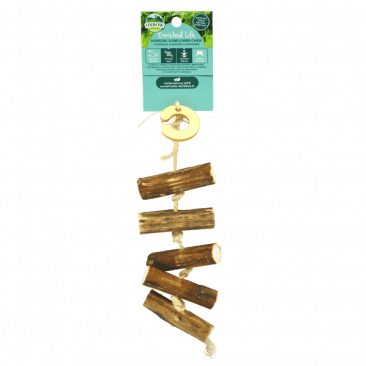 Did you know that sunflower stalks are a tasty, healthy option for your pet? Couple that with a habitat hanger that gives additional physical enrichment and you have an awesome chew option for your furry friend!
Learn More