What's not to love about enriching your pet's daily life?  Providing enrichment is an essential step in supporting your little loved one's instincts to run, play, hide and chew every day.  Supporting these instincts is fun for you and your pets alike and is a great way to strengthen your loving bond.  To help, we're excited to introduce our newest enrichment innovations.
Exercise
Physical activity is great for mind and body alike. To help the furry athletes in your household be the healthiest, happiest versions of themselves, we're introducing our new Quiet Runners and Run & Hides.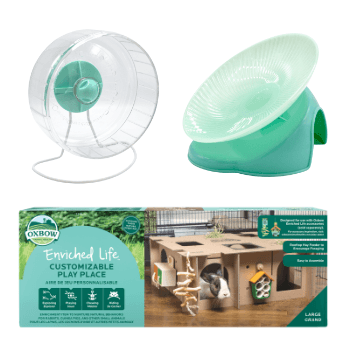 Quiet Runners
Who's ready to run?  Our 2 in 1 Quiet Runners come in three super silent sizes (8", 10", and 12") are designed to support the play instincts of small pets inside or outside of the habitat.  Featuring a super silent design and feet friendly track, the 2 in 1 Quiet Runners are designed with both quiet and safety in mind.
Run & Hides
When it's time to stretch those little legs, small pets are sure to enjoy our Run & Hides.  With a super silent and feet friendly design, pet parents can feel confident that the Run & Hide (available in 8", 10", and 12" sizes) will quietly and safely support the physical activity their pets need to be happy and healthy.  The built in hide makes the perfect place to rest and relax after a strenuous workout!
Engagement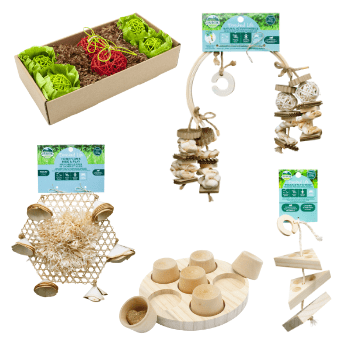 Offering items that challenge and engage your pets comes with many health benefits, including regular mental stimulation and increased daily physical activity.  Our new engagement items are custom designed to provide entertainment and prevent boredom.  By adding visual and tactile enrichment to your pet's daily routine, you can help them live their best, most enriched life.
In addition to being adorable, our Honeycomb Hide & Play supports your pet's exploring, playing, and chewing behaviors.  By hiding food and treats throughout the nooks and crannies of the Hide and Play, you'll promote your pets natural foraging behaviors in healthy, meaningful ways.  Great job, you responsible pet parent, you!
Let's get those pets looking up!  Our Natural Activity Mobile easily attaches to your pet's habitat and is designed to encourage pets to explore vertical spaces as they engage their chewing and playing instincts.
The Garden Dig Box is one of our favorite new additions to our ever-growing enrichment lineup.  This garden-themed item is great for foraging.  Simply sprinkle a few of your pet's pellets or favorite healthy treat pieces in amongst the paper and enjoy watching them forage for them.  Can you dig it?  Of course you can.
The Wooden Puzzler is custom made for interactive play between you and your pet.  Hide pellets or healthy treats under the cups and enjoy watching your pet user their super sniffer to hunt them down.  Stack the cups and watch your mini-Godzilla knock them down.  Hide the cups individually throughout your pet's habitat.  Need even more Wooden Puzzler inspiration?  Get it here!
The Triangle Tilt 'n Treat will entice your little loved one to get vertical to hunt for their favorite treats.  Like our other hanging chews, the TNT conveniently attaches to the side of the habitat or exercise pen to help accessorize your pet's habitat while making the most of the space.
Natural Chews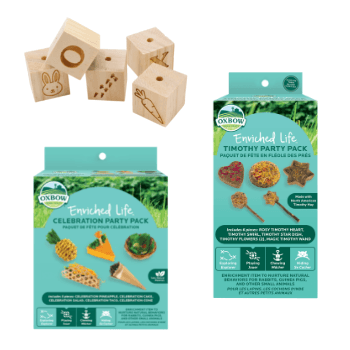 How frequently should your pet be chewing?  All day, every day!  Chewing promotes dental health through regular, natural wear.  That's why it's so essential to offer multiple chew options for your pet at all times.  Having access to a variety of chews will keep their interest, providing mental stimulation in the process.  To keep your natural chew rotation fresh and exciting, we've designed some fun and exciting new additions to our lineup.
Ox Blocks
Hangable?  Check.  Stackable?  Check.  Cute animal designs?  Double check.  If your pet enjoys interactive play, we're pretty sure our adorable new Ox Blocks check all the boxes.  Whether you choose to hang the entire strand of blocks from a habitat or exercise pen wall or disassemble the strand for stacking fun, your pet will undoubtedly have a ball playing with these natural wood blocks.
Celebration Party Pack
Every day is a celebration when you have adorable pets in your life.  That's why we designed our new Celebration Party Pack to include five adorable natural chews in one.  Whether you're celebrating a special occasion like a birthday or gotcha day, or just celebrating another amazing day with your furry loved one, we've got you covered.  With our exclusive new taco and pineapple included, the Celebration Party Pack is a must have for all pet parents. Is a party in a box.
Timothy Party Pack
Now that parties are on your mind, let's talk Timothy.  Like our Celebration Party Pack, our new Timothy Party Pack contains a variety of enriching chews, including two exciting exclusive items – the Rosy Timothy Heart and Timothy Swirl.  With a total of six natural, Timothy-based chews in the box, your pet is sure to give you extra snuggles when this party pack shows up in their habitat!
Rest and Relaxation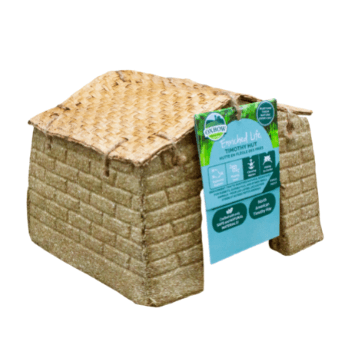 As a prey animal, your small pet possesses a natural instinct to avoid perceived stresses and dangers by hiding away throughout the day.  To help with his, we excited to unveil our newest additions – our Timothy Huts!
Timothy Huts
It's natural to be jealous of your pet's ability to nap any time or place they choose.  And while you may not have the same liberties when it comes to catching some Zzzs, you should always take comfort in supporting your pet's rest and relaxation needs.  An ideal habitat should feature multiple resting places, and our new Timothy Huts made an adorable addition to every pet's habitat.  Made with North American Timothy Hay, the huts come in three sizes to support the R&R needs of small pets of all shapes and sizes.
Care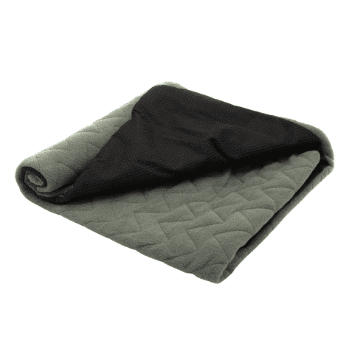 When it comes to enriching your pet's world, don't forget about care essentials!  Equipping your pet's habitat with these items s crucial to their health and happiness.
Washable Floor Mats
There's nothing better than having a soft place to lounge.  That's why our new washable floor mats are made of super soft fleece with a cushy, multi-layer design.  The mats come in two sizes and are great for use inside or outside the habitat.  One touch and you'll wish your bedding was this soft and comfy!
Ready to take your enrichment game to the next level?  Check out these additional enrichment resources: