As any rat parent knows, these adorable animals are highly intelligent and require toys and accessories that will stimulate and challenge them throughout the day! Rats also have behavioral instincts that need to be met regularly to discourage destructive behaviors caused by boredom such as bar biting. What are these instinctual behaviors and what toys can help them best meet their needs?
Exploring – Rats are naturally inquisitive and love to explore their surroundings whenever they can. By strategically placing exploring-centric products in your little one's habitat, you'll not only support their behavioral instincts but will provide the mental stimulation that's needed to keep them happy and healthy!
Playing  – Rats are playful pets! You've no doubt noticed your ratty playing with anything they can get their adorable paws on.
Chewing – Rats have open-rooted teeth, meaning that they never stop growing. Therefore, these adorable animals require access to plenty of appropriate items for chewing. By properly supporting dental wear, you'll also help ensure that your little one doesn't partake in destructive chewing behaviors.
Hiding – Every pet parent has gazed lovingly at their rat when they're cuddled up and snoozing in their favorite hammock or hide. As prey species, rats need plenty of spaces to hide away to rest, relax, and nest in. Make sure to keep plenty of hiding items on hand to make sure your rat feels safe and protected.
Check out our top 10 toys and accessories to help meet your little one's behavioral needs below!
Perfect For: Exploring, Playing
Rats love to stretch and climb to interact with items in their habitat. Hide yummy treats or a few pellets to encourage your rat to explore and play with something slightly out of their reach. It's a great workout for your little one as well that will end with them receiving a much-deserved reward!
Pet Tip: 
Looking for a tasty treat to put in your Forage Pot? Our Simple Rewards line offers a delicious variety of options!
Perfect For: Chewing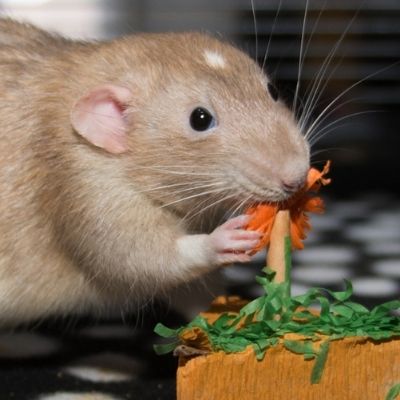 Looking for a stocking stuffer, birthday, or Gotcha Day present for your rat? (Although let's be honest, you don't need to wait for a special occasion to show your pet that you love them.) This cute cake says it all and more.
Pet Parent Tip: 
Looking for other items to celebrate your little one? There are plenty of other celebration items to choose from – such as the Cupcake, Present, Pom Pom, and more!
Perfect For: Hiding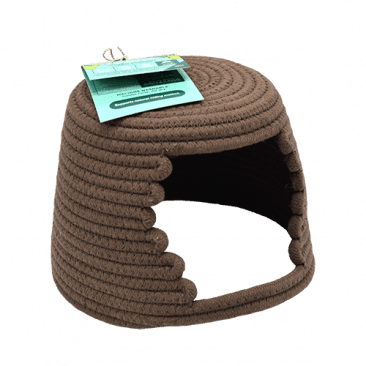 Rats treasure their quiet time. Providing plenty of opportunities for mini-retreats will ensure that your rat gets the rest that they need. Believe it or not, letting your pet have their alone time will help to improve your bond!
Perfect For: Hiding, Chewing, Playing, and Exploring 
Need to replace or stock up on multiple rat care items at once? Or, perhaps you have a friend who has become a new rat parent and needs the essentials sooner rather than later. Oxbow has you covered with the Rat Accessory Pack, featuring four different rat-centric care items, including the Climbing Rope, a chew-proof glass water bottle, no tip bowl, and Corner Fleece Hideout.
Perfect For: Exploring 
Did you know that rats are master athletes when it comes to rope climbing? Not only are their little paws too cute for words, but they're made for vertical scaling! Providing alternative paths for your rat to get from one area of their habitat to another is a fantastic way to support their exploring instinct and will provide hours of play for your pet.
Perfect For: Exploring and Playing 
If your rat boasts MENSA-level intelligence, simple puzzles aren't going to keep their interest for too long. The Garden Forage Puzzle features 8 spots that are great for hiding different types of snacks or treats under hay or nesting material. This toy is as much fun for you to prep as it is for your little one to play with!
Perfect For: Exploring, Playing, and Chewing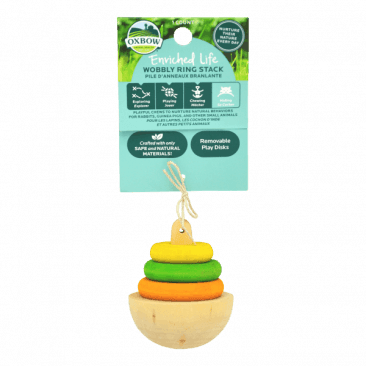 This toy is great for encouraging fun interaction! Whether they're trying to knock over the stack or take the rings off, this will provide hours of entertainment for your little one!
Perfect For: Exploring and Playing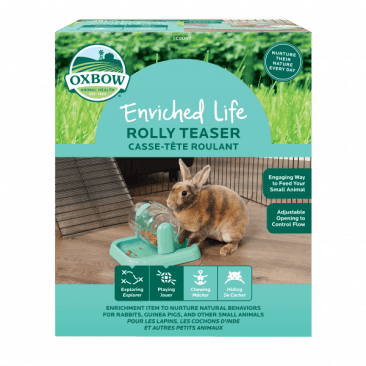 Mealtime provides an optimal opportunity to introduce enrichment into your rat's day. Having to earn your food may seem annoying from a human perspective, but our furry friends love it! The Rolly Teaser encourages your little one to interact with the spinner in exchange for yummy pellets. Playing with your food has never been easier or more fun!
Pet Tip: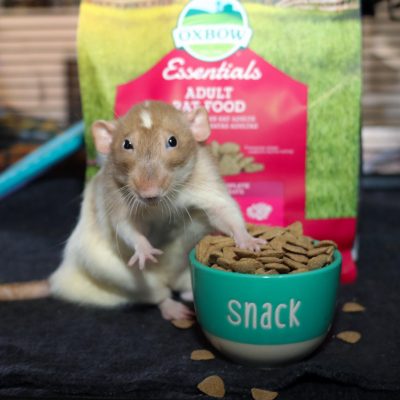 Check out Oxbow's delicious and nutritious fortified food options for rats!
Perfect For: Hiding  
This fleece hammock easily and securely attaches to your habitat to provide your rat a peaceful place to rest and hang out. If your household has multiple rats, the two tiers allow your pets to snuggle up together or to claim their own space. Either way, it's a win-win for your pet(s)!
Perfect For: Playing and Chewing
Many rats are wildly entertained by danglies that hang in their habitat! The Hanging Mulberry Chew is a durable, high-quality chew that features mulberry sticks, sisal, and gugertree wood.
Learn More