The Oxbow Story begins with a farmer, his craft, and a passion for perfection.  Guided by five generations of family hay growing expertise, Oxbow Founder, John Miller, spent years honing the craft of producing premium hay.  John was practiced in the art of waiting for the perfect harvest conditions (even if it meant harvesting beneath the stars) and developed a reputation for producing the most premium hay the market had to offer.
John soon discovered a need in the small pet community for proper nutrition and education and embarked on a journey to revolutionize the way these pets were fed and cared for.  Over the past 30+ years, one farmer's passion has grown into our global commitment to small animal health.  At Oxbow, we are inspired by pets and their people, and we dedicate each day to bettering their lives.  We love what we do, and we couldn't do it alone.  Thank you for joining us on our journey.
The Oxbow Family
What does it mean to be a family?  At Oxbow, we think it means supporting and inspiring those around us.  To us, this means working hand-in-hand toward something greater than ourselves and celebrating one another's journey along the way.  The Oxbow Family is made up of passionate, talented, hard-working individuals with a common purpose – helping people and pets live happy, healthy lives.
Living the Oxbow Way
At Oxbow, we believe that quality of life begins with quality care.  Since the beginning, we've promised to invest in small animal health and wellbeing through a series of principles and initiatives that transcend nutrition.  Our duty and promise, The Oxbow Way, is about making a true difference in the lives of pets and the people who love them.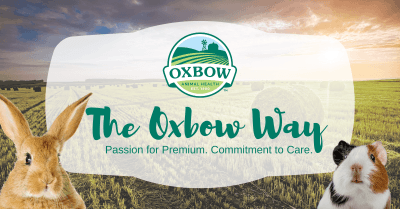 Quality
Our commitment to quality starts in the field. We work hand-in-hand with expert growers across our family of farms to ensure that all Oxbow hay has the required premium attributes that our customers expect and deserve. Each of the ingredients harvested is graded, analyzed, and scrutinized before it even enters our packaging facility. Then our skilled team members sort all of the highest-graded ingredients by hand, removing anything less than premium.
Innovation
Over the years, we have taken pride in having been "first to market" time and again. We were the first to introduce Timothy Hay as a dietary staple for small herbivores, the first to develop a Timothy-based small herbivore food, and the first to create a 100% organic line for small pets. But our innovative spirit doesn't end with product development; you'll find it reflected in the passion put into the decisions we make every day.
Appreciation
Foster those following your path and share that with which you've been blessed. This expression represents our philosophy of supporting those who share our common vision of bettering the lives of small animals. We grant funding to:
Animal rescues
Humane societies
Rehabilitation centers
Academic scholarships
Education
Simply put, education is in our DNA. Since our earliest days, we've worked with top exotic veterinarians and nutritionists to educate pet parents, retailers, and even the professional veterinary community about the value and importance of species- and age appropriate nutrition for small herbivores through lasting educational programs, scholarships, and landmark research.