Home, sweet home! Just like us, small pets always appreciate having a home that is a safe and engaging place to relax and play.  Here are a few guidelines to follow when creating a cozy home for your pet.
The More Space, the Better
While we can leave our home and go to work or school, keep in mind that our small pets do not have that luxury. The habitat you provide them is their entire living space. Adequate space to rest, run, eat, play, and use the restroom is necessary for small pets to thrive. In addition to having a large living space, your pet will greatly benefit from regular access to a pet-proofed area outside of their enclosure so they can safely explore.

@finnleythepig has two rooms for their guinea pigs in their enclosure! Their living space also includes many soft materials for ultimate comfort.
Add Engaging Wall "Art"
While we tend to make our homes cozier by hanging wall art, your pet's enclosure can be made cozier by adding enriching accessories to the walls. Your small pet may especially love items such as our Forage Pot, which can act as the ultimate boredom-buster for playing hide-and-seek with treats. If your pet is more the exploring type, our Small Play Wall features multiple textures and materials for your pet to experience. Be sure to rotate enrichment regularly in order to keep your pet entertained!
@finnleythepig is having a blast with the Small Play Wall!
@thebubblebuns is using the Forage Pot to search for the tastiest treats.
@my3guineapigs use their Forage Pot for leafy greens!
Serve Hay a Different Way
If your pet appears to be bored with how their hay is currently being offered, try changing the feeding method. Our Apple Stick Hay Feeder and Hay Forager combine fun and functional by keeping hay fresh and contained while also acting as a natural chew.
@bandofbunnies are quite good at sharing!
Factor in Your Pet's Age
If your pet is considered a senior, you will need to factor in any medical conditions they have when creating a cozy home. For instance, some older pets have arthritis and cannot get around easily. This means making sure their enclosure is not too cluttered, thinking about what type of bedding will be the most comfortable, and possibly changing the way you feed hay or pellets. If your older pet seems reluctant to leave their hiding spot, even to eat or drink, it's important to book an appointment with your exotics veterinarian for an exam to find and treat any underlying conditions.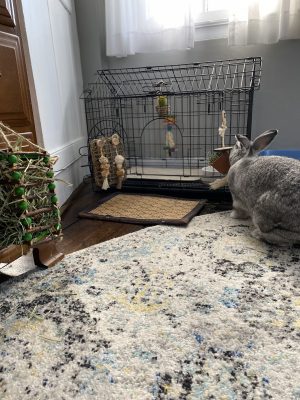 @elliebellybun has plenty of space to roam while not being encumbered by enrichment. The pathway to enter their enclosure is not a high jump, so it would be easier for older individuals to navigate. The mat at the foot of the entrance would also be helpful for older individuals to prevent sliding!
Add Hideouts
No small animal home is complete until it has at least one hideout per animal. Hiding is a natural behavior of all small companion mammals. They often hide so they can feel safe and rested. There are many different types of hides available, depending on your pet's preferences and needs. Oxbow's Enriched Life has three different sizes of washable woven hideouts, while our Timothy Club tunnels and bungalows are 100% timothy hay and double up as a tasty snack while your pet relaxes!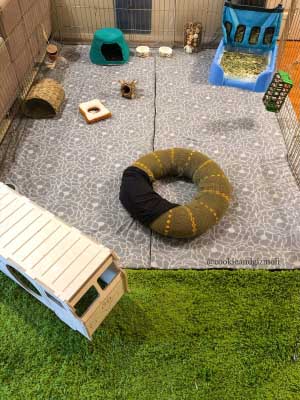 @cookieandgizmoli has a large living space complete with at least one hiding spot per animal. They utilize both our Timothy Tunnel and Woven Hideout (M)!
Consider Environmental Factors
No one likes to be in a room that is too hot or cold. Throughout the seasons, always consider both your pet's immediate living space as well as the room of the house your pet lives in. What projects may need to happen in order to keep your pet comfortable? Think about sealing drafts, adding curtains to limit direct sunlight, or other projects that may happen seasonally. Might your pet benefit from being in a warmer place of the house during the winter months all together? Learn more about Ideal Temperatures for Pets and How to Keep Pets Cool in the Summer.
There are an infinite number of ways to customize your pet's living space and make it a home that meets all their needs. Want to get started but aren't sure where to begin?
Learn More
How to Keep Your Free Roam Rabbit Safe
How to Clean a Guinea Pig Cage