We're Giving Up To $5,000 To Rescues In Need!
Our pets depend on us each day for the nutrition and care they need for health and happiness.  And we know that rescues everywhere work tirelessly to provide for small pets in need.  That's why we're so excited to announce our "Nurture Their Nature" campaign – a new donation campaign benefitting small animal rescues.  Through Nuture Their Nature, a portion of the proceeds from every Enriched Life item purchased from August 1 – September 30, 2019 will be donated to small animal rescues in need.  Up to $5,000 will be donated amongst the winning organizations.
We Need Your Help!
Do you know of a rescue that is deserving of some extra support?  Nominations for support through Nurture Their Nature are open to the public and can be made between now and August 26th at www.oxbowanimalhealth.com/nurture-their-nature.  Finalists will be chosen by an Oxbow panel and voted on by the public online between September 9-23.
Show Your Support In The Store!
A portion of every Enriched Life purchase you make between now and September 30th will go toward the campaign.  That means it's the perfect time to start providing daily enrichment for your pets!
"At Oxbow, we know that the health and happiness of small animals depends on the right nutrition and daily opportunities for enrichment each day," said Melissa Ross, Vice President of Marketing and Innovation at Oxbow.   "Through our Nurture Their Nature campaign, we look forward to providing financial support to deserving rescues so that they might provide enrichment for animals as they wait their forever homes.  We applaud the work of rescues everywhere and are humbled to be able to support the great work they do."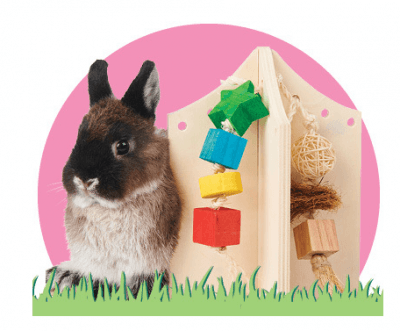 Features of Enriched Life Include:
Innovative designs that support natural behaviors
Safe, natural materials such as hay, untreated wood, natural fibers, and vegetable dyes
Customizable play centers with replaceable toys to prevent boredom
A wise assortment of chews to encourage mental and physical enrichment
For campaign details, visit: www.oxbowanimalhealth.com/nurture-their-nature.
To learn more about Enriched Life, visit enrich.pet.
Resources on Enrichment: 
| | | | |
| --- | --- | --- | --- |
| All About Exploring | All About Chewing | Chewing Behaviors Video | The Importance of Natural Chew Variety Video |