by Dianne Cook, LVT
As pet parents, our furry companions are important, cherished members of our families. They take up residence in our hearts as much as our homes and provide a level of unconditional love that is unique to the animal kingdom. When our beloved pets pass away, their loss can be crushing. The emptiness, unbearable. Though nothing can ever truly replace your departed fur baby, you can honor the life you shared in a variety of creative and personal ways.
Memorial Options
A fitting memorial is an excellent way to honor the unique bond you shared with your beloved furry friend. Not only will a memorial celebrate your pet's life, companionship, and unwavering love, it may help ease your pain as you work through the stages of grief. The five memorial options below are not only beautiful keepsakes but will help keep your fur baby's memory alive.
Personalized Portrait
If your heart yearns to see your little one's face again, a personalized pet portrait can capture the very essence of your late friend. A framed likeness hung on the wall is certainly a beautiful, traditional option, but it is not the only one.
Working with a talented digital artist, like Petsandprintco or ZKPortraitsWorkshop on Etsy, is not only a meaningful way to ensure your pet's unique spirit is accurately captured but allows you the flexibility to have the image printed as a poster or provided in a digital file format. The digital files can be used to create t-shirts, coffee mugs, blankets, and more that feature your kiddo's loving face.
Outdoor Memorial
Did your piggy pal love to spend time in the garden? Did your bunny binky at the chance to nibble on fresh grass? An outdoor memorial may be the perfect option. Pet memorial stones, pavers, and bricks are a great way to commemorate your nature-loving companion.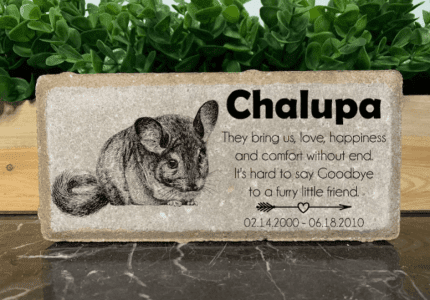 When deciding upon an outdoor memorial marker, make sure it's resilient and weather-proof so your keepsake remains lovely for years to come. Custom options, like the beautifully hand-crafted bricks from LaserandCrafts on Etsy, look attractive in any space and can be used as a grave marker, along a garden path, or placed in your furry friend's favorite outdoor spot.
Ornaments
The loss of a cherished pet is never easy, but it can be especially difficult around the holidays. A personalized ornament is an endearing way to keep your little one's memory alive year after year. Memorial ornaments come in all shapes and sizes, and many are perfect for display outside of the traditional holiday season.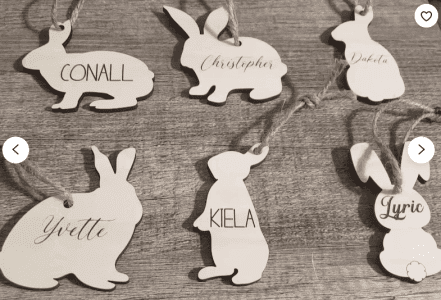 Simple, elegant ornaments, like the personalized maple wood cutouts created by ALittleBitofSummer on Etsy, would not only look beautiful along with traditional holiday décor, but would also look lovely displayed on a picture frame, in a shadow box, or even hanging from your rearview mirror.
Jewelry, Keychains, and Pocket Stones
Sometimes you just need to keep a reminder of your furry friend with you always. If you feel this way, custom jewelry or a personalized keychain may be the perfect option.
Memorial jewelry ranges from big and luxurious to small and subtle. Some jewelry makers create beautiful pendants, rings, bracelets, and earrings from your pet's ashes. Others offer lockets that feature some of your little one's fur.
If you're not a fan of jewelry, a keychain may be a better option. Numerous artists create gorgeous, one-of-a-kind keychains offering many of the same features as memorial jewelry.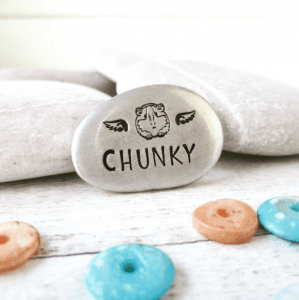 Small pocket-sized keepsakes are another meaningful option for folks who want to keep the memory of their pet close by. Riskybeads on Etsy create personalized pewter pocket stones that can be carried on your person or in a purse or backpack. Pocket stones can also be kept at your desk, on your nightstand, or anywhere you want to keep a cute reminder of your furry friend.
Memorial Donation
Memorializing your fur baby through a donation to your local humane society, animal shelter, or favorite rescue organization is an especially thoughtful option. In addition to honoring your little one's memory, your financial support allows the recipient to continue their crucial rescue efforts.
Though it varies by organization, memorial funds are most often used for direct animal care, spaying and neutering, and to support the organization's animal-focused educational efforts.
Learn More