Daily enrichment is essential to your small pet's health and happiness.  That's because your pet is instinctively wired to interact with their surroundings in unique ways each day.  At Oxbow, we believe that supporting your little loved one's instincts to explore, play, chew, and hide should be a fun and interactive experience for you both.  That's why we're so excited to reveal our latest enrichment innovations!
Even More Natural Chews to Choose From!
We all know daily chewing is essential to the dental health of small animals such as rabbits, guinea pigs, and chinchillas. And, the more chew options your pet has, the better! That's why so we're adding more than 20 new fun and innovative items to our lineup of natural chews.
Timothy Hay Chews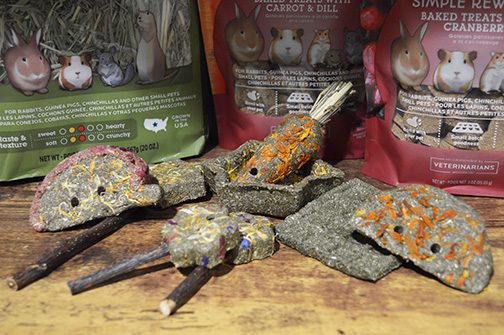 Timothy Hay is the go-to forage for small pets everywhere, and our Timothy-based chews are some of the most popular chews we offer.  To satisfy your Timothy-loving pet, we're adding six brand-new options to our Enriched Life lineup.
Our newest Timothy Chew innovations include:
Enticing additions to several of these options include marigold, rose, and cornflower petals for your pet to enjoy as they munch!
Celebration Chews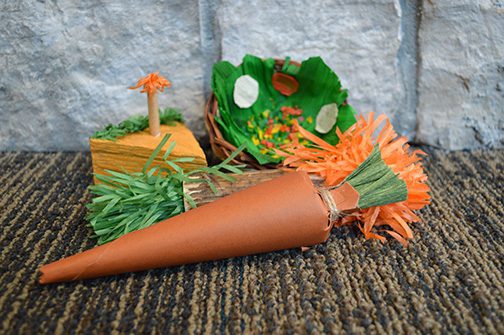 Let's face it – every day is a celebration when you're a pet parent!  To celebrate special and everyday occasions alike, we've expanded our ever-popular collection of Celebration Chews.  New additions include:
Dangling Natural Chews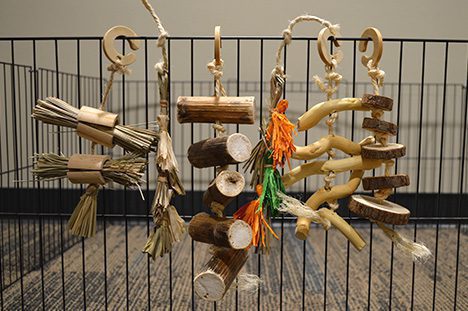 One of the best ways to enrich your pet's world is to challenge them to explore all of the different parts of it!  An easy and enjoyable way to do this is by attaching enriching items vertically in the habitat.
Our Dangling Natural Chews were designed with vertical enrichment in mind!  This wide variety of items attach easily to the top or sides of habitat to compliment the chews you offer at floor level.  Our dangling chews are made from a variety of natural materials including apple sticks, mulberry, and sunflower.
New Innovations Include:
Looking To Customize? 
Our Natural and Color Kabobs feature removable ends to add or customize items.  Add your pet's favorite greens or veggies to the skewer for a special treat!
Hooray For Engagement!
As intelligent and curious creatures, small pets thrive when given opportunities to engage with their world in challenging and interactive ways!  Benefits of daily mental and physical engagement include:
Provides entertainment to your pet and helps prevent boredom
Adds visual and tactile enrichment to daily routine
Encourages your pet to change and manipulate their environments in healthy, non-destructive ways
In addition to supporting mental enrichment in new and innovative ways, our new engagement items are great for building the human/animal bond.
Support Foraging The Right Way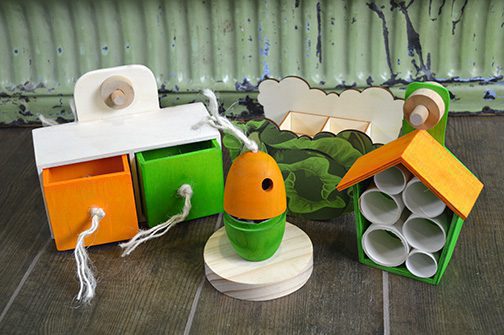 As we've discussed in a previous blog article, foraging is instinctual for small pets, but there are common misconceptions about how to foster this behavior in meaningful ways for your pets.  Muesli mixes and foraging blends proclaim to support these instincts but ultimately just lead to unhealthy selective feeding behaviors.
One great way to inspire your rabbit, guinea pig, or other small pet to forage for their favorite healthy nutrition is to present it in fun and new ways, or simply to make them work a little harder to secure it.  With this in mind, we're excited to introduce a number of new items that are designed to support foraging the right way.
Our Treat House, Garden Variety Rocker, Pull 'N Seek, Hide N' Wobble, and Garden Forage Puzzle are all great for hiding pellets, fresh veggies and greens, or healthy treats.  Meanwhile, our Rolly and Wobbly Teasers are designed to encourage your pets to work for their food or treats.  These items feature adjustable openings to control the flow of food and help prevent your pet from eating their food too quickly.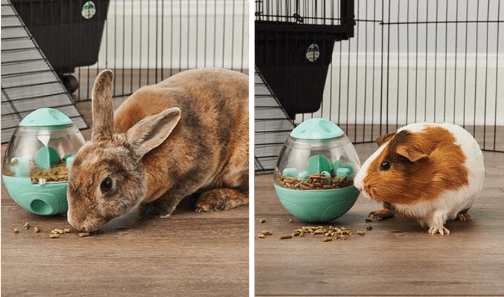 Puzzles for Small Pets? You Bet!
Many first-time pet parents are surprised to learn how intelligent and inquisitive their pets are.  Keeping your pet mentally stimulated and engaged is essential to their wellbeing, and our new Play Garden and Wobbly Ring Stack are just the items to support this basic need!  These high-quality wood puzzles feature fun designs and bright colors that make an exciting addition to even the poshest of small pet habitats!
Time For A Little Rest & Relaxation
Opportunities for a little R&R are essential for all prey species. By adding fun and innovative options for both inside and outside the habitat, we're making it easier than ever for pet parents to rest and relax throughout the day.
Hay House
We're in love with our new Hay House and we're sure you and your pet will be as well!  This high-quality wood house is super easy to assemble and fits great inside or outside the habitat.
With openings on both ends, your pet will have a blast crawling through the house or spending some time rest inside while she gets away from the busy world around her!
Fill the hay house with your pet's favorite variety of Oxbow hay and they can choose whether to dine inside or out!
Fleece Hammocks & Hideouts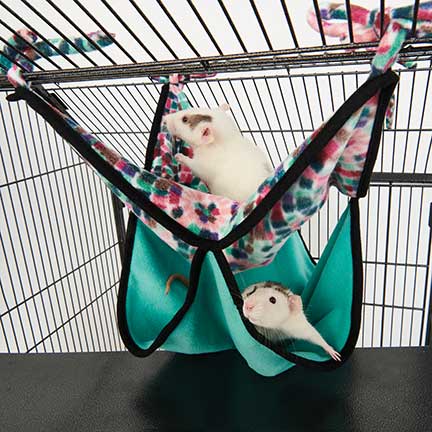 No habitat is complete without one or more hideout options.  And, when it comes to comfort, there's nothing quite like fleece for comfort and warmth.  Our new Corner Fleece Hideout is great for pets of multiple sizes and attaches ideally in the corner of a habitat or X-pen.
For smaller, vertical-minded friends such as rats and chinchillas, our new Fleece Hammock is a must have.  For multi-rat households, our multi-level Honeycomb Hammock has room enough for several friends!
Stylish & Spacious – Corrugate Hides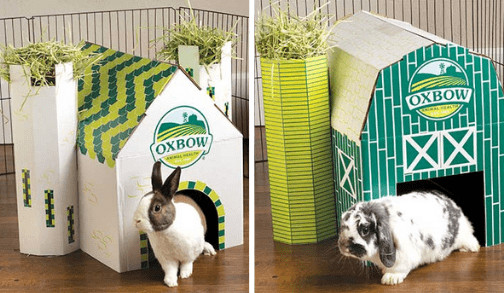 We couldn't be more excited to introduce the latest rest & relaxation innovations we have for our rabbit and guinea pig friends.  Our new corrugate hides feature stylish, spacious designs and make the perfect getaway throughout the day.  Check out our Hideaway Hay Barn, Hideaway Dream Cottage, Hideaway Dream Castle, and Design Your Own Hideaway House to find the perfect design for your pet.
Features Include:
High quality, safe-to-chew corrugate
Easy to assemble and can be stored when not in use
DIY design option allows pet parents to color a custom design to match your pet's personality
Hideaway Hay Barn and Dream Castle feature built-in hay feeders
Get Your Exercise Essentials!
Your pet may be little, but she still needs plenty of daily exercise to physically fit and mentally enriched! Our latest additions to the exercise category are designed to encourage physical activity in fun and mentally stimulating ways for a variety of species.
Explore and Hide Customizable Mazes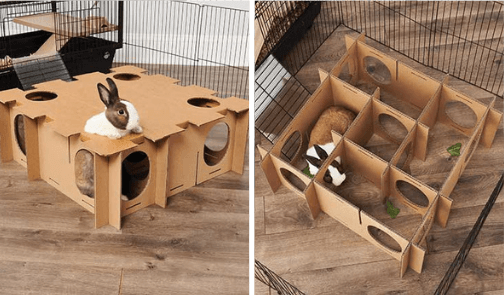 Your pet will love the challenge of navigating our new Explore and Hide Mazes and you'll love customizing the course and hiding their favorite noms throughout!
Our mazes come in two sizes and can be purchased in multiples to create larger, customized layouts.  These easy-to-assemble mazes are made of safe-to-chew, untreated corrugate and come with a removable top.
Balls and Wheels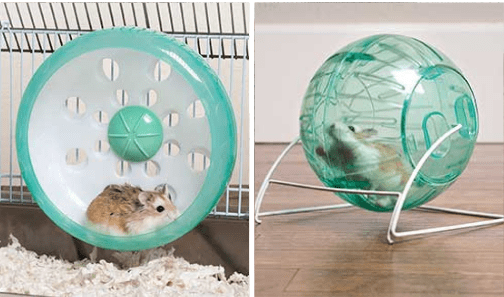 Calling all dwarf hamster and mouse parents!  Our new Run Around Ball, 2-in-1 Fitness Ball, and Attachable Quiet Wheel are designed with the physical and mental health of your little loved ones in mind.
Our new balls and wheels feature safe, feet-friendly surfaces and come in bright, lively colors to match the personality of your pet.
Climbing Rope
As all rat lovers can attest, there's nothing more enjoyable than watching ratties explore their surroundings.  Our new Climbing Rope attaches easily and securely to the habitat and be manipulated into an endless variety of shapes for your rat to explore.
Habitat Must-Haves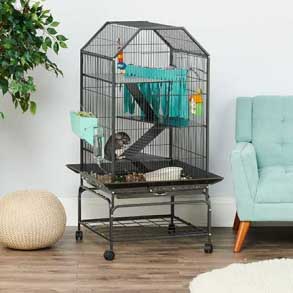 Our new Multi-Level Habitat is the ideal habitat for chinchillas and rats.  Featuring multiple levels and sturdy metal construction, your pet is sure to feel engaged and at home inside.  Other features include:
Front door opens to offer a sturdy perch where chinchillas can relax
Litter pan pulls out for quick and easy cleaning
All-metal splash guards are angled to keep the areas around the habitat dry and clean
Ramps are feet-friendly, designed for comfort and to prevent injuries to toes and feet
First time rat or chinchilla pet parent?  Check out our new Rat and Chinchilla Accessory Packs for all of your habitat essentials.
Care Essentials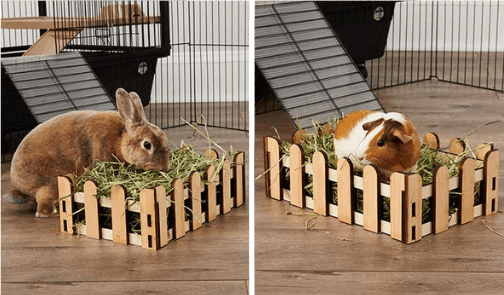 A clean, well-groomed pet is a happy pet! New additions to our care category include our Rectangle and Corner Litter Pans, Wood Brush & Comb, and fun Hay Corral.